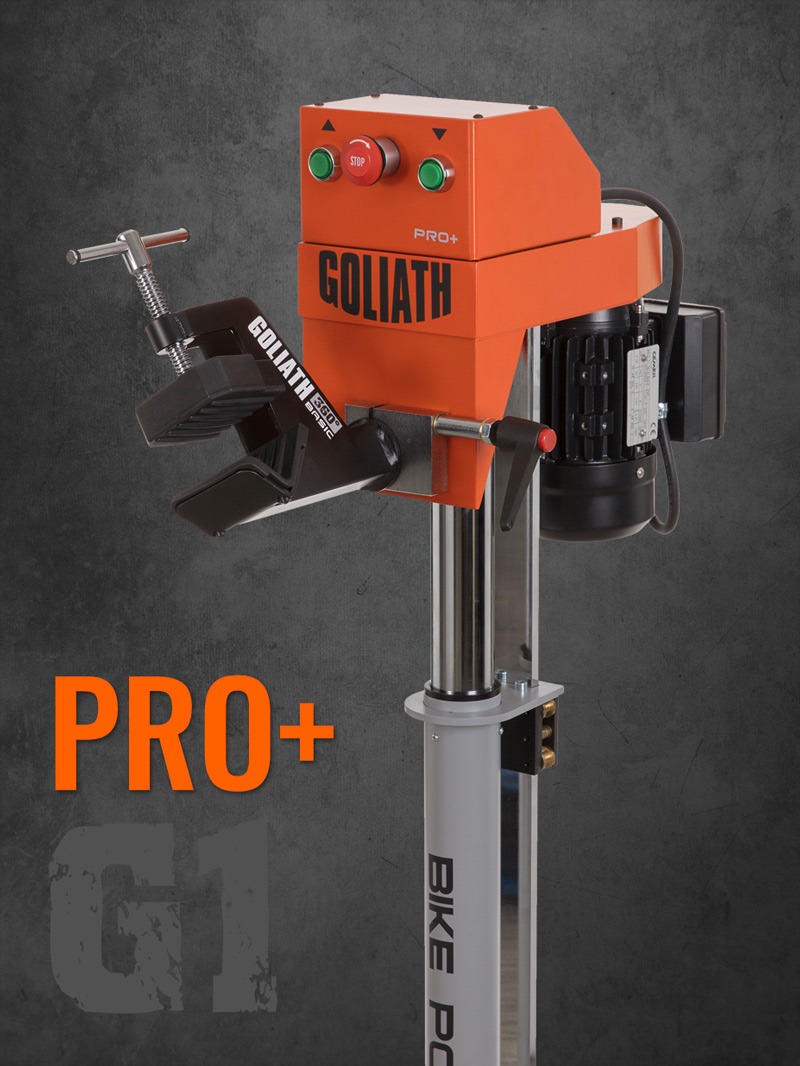 The G1 Pro stand is the main development axis around which most of the stands and accessories of the GOLIATH BIKE line have been designed.
It was originally conceived with the mission of facilitating the loading and handling of heavier bikes, due to the introduction of electric bikes to the market, and robust enough to work with them in a professional way.
TECHNICAL CHARACTERISTICS:
The G1 Pro support includes an electric motor that allows it to lift a maximum load of 40 kilos up to a height of 1300mm and a minimum height of 700mm, which allows the bicycles to be mounted on the clamp without the need to lift them manually.
It has a weight of 27.50 kilos (without base).
It also includes the 360º BASIC clamp mounted through the Goliath Bike line own anchorage system and which can be replaced by the 360º CARBON clamp or the 360º TIJA clamp.
It can be anchored directly to the ground, to a flat rectangular base (G-P2) or to feet with wheels (G-P1) to move it easily.
ERGONOMICS AND INJURY PREVENTION:
One of the main advantages of working with a GOLIATH PRO+ electric stand is the possibility of positioning the bicycle at practically any height and angle required thanks to the up/down controls and the 360 degree rotation of the clamp, and also the possibility of changing this height and/or angle during repair, assembly or maintenance work.
Very common are injuries that are subtly caused by repetitive bad postures, which are frequent in bicycle repairs.
GOLIATH BIKE seeks to provide a workstation where the mechanic does not have to bend down or end up dismantling any component on the floor because he does not have easy access to it.
WEIGHT, SPACE AND MAINTENANCE:
GOLIATH PRO+ is unique in its kind, it is the only electric support in the market that allows a minimum total height of 70cm. It does not need much space so it can be installed in any workshop.
Its worm gear mechanism allows you to lift and secure up to 40 kilos without any problem, and also allows you to hide half of the support's travel when it is completely lowered.
This system requires practically no maintenance or spare parts, just a little bit of greasing occasionally.
Related products
Comments (0)
No comments at this moment